Every year, Le Bocche Channel in Portovenere becomes a large natural pool in Liguria. The initiative has become an unmissable yearly event for those who wish to cross the channel between the medieval sea village and Palmaria Island. The channel can be crossed either by swimming or by "sailing" on top of relaxing floating mattresses or rubber dinghies.
Authorities close down the traffic to nautical means of transport in the channel that divides Portovenere from Palmaria Island, usually for a day in July and a day in August. This way, swimmers and divers can enjoy the area that is usually subject to heavy traffic during summer.
In 2016, Liguria's most famous natural pool is open on Saturday 23 July and Saturday 20 August from 3pm onwards.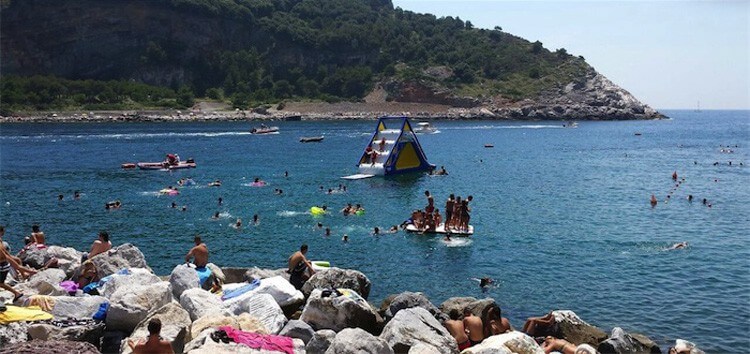 Different initiatives take place in occasion of Portovenere's Piscina Naturale. Examples?
High-wire walkers attempt to cross the channel in what is usually Italy's longest Slackline: they walk on a tape that is 130 meters long at 4 meters of height, uniting San Pietro Rock with the island of Palmaria. If you wish to train in this type of challenging circus activity, you can usually try on the sandy beach at Molo Doria with the assistance of instructors.
Or you can join sports competitions such as Portovenere Triathlon, Trekking & Swimming, and – especially for children – the scientific snorkelling expedition called Sea Experience in the Protected Marine Area of Porto Venere.
For more details on the different activities during the days of Piscina Naturale di Portovenere, or the Natural Pool in Liguria, contact the local events' association called "

Pro Loco Eventi Portovenere

".
Photo Credits: images from www.eventiportovenere.it