The La Spezia Jazz Festival is an international music event that takes place in the mesmerizing Gulf of Poets. Specifically, in 2016 the Festival Internazionale del Jazz della Spezia occurs in the towns of La Spezia, Lerici, and Portovenere.
The jazz music festival was founded in 1696 by Tiberio Nicola, a local musician and jazz lover from La Spezia. With its 48th edition scheduled to take place from 1 to 17 July 2016, it is the longest-running Italian jazz festival to date. Most of all, the greatest international jazz stars have played here, making it one of the top historic events of the kind at European level.
It is quite safe to say that few other jazz festivals in the world (if any) can boast such an extraordinary location such as the UNESCO World Heritage Site of Portovenere, its Islands and the Cinque Terre in Liguria.
Jazz Festival in Portovenere
The dates of the festival scheduled to take place in the medieval sea hamlet of Portovenere are: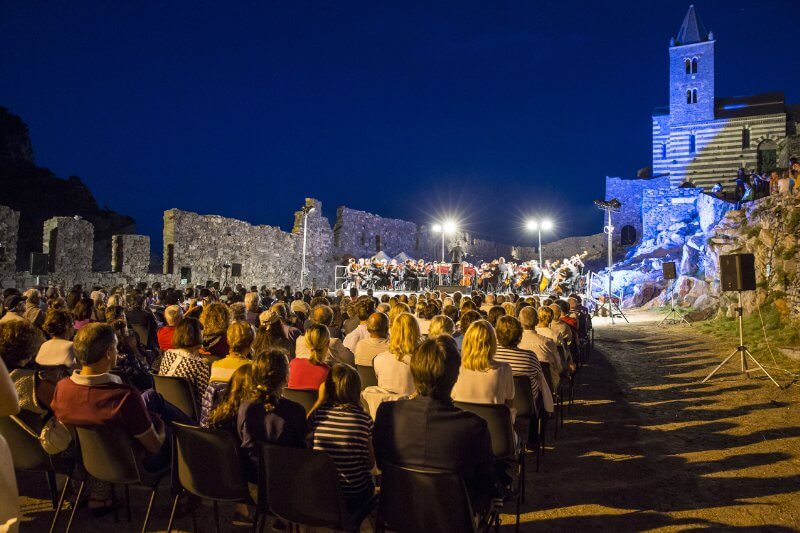 Friday 1st July 2016
The Philadelphia Jazz Orchestra will play a concert starting from 6:30pm at Piazza Bastreri. The Philadelphia Jazz Orchestra is an all-star big band comprised of the best high school and college jazz musicians in the Philadelphia and New Jersey regions in the USA.
The Iaia Forte with Francesca Marciano follows at 9:00pm at Piazza San Pietro. They are two Italian actresses/screen writers with a passion for jazz music.
The Rosario Giuliani Sextet follows the Italian divas at 22:30pm in Piazza San Pietro. Rosario Giuliani's artistic career boasts innumerable and heterogeneous experiences of the highest rank. Examples? International performances & collaborations with artists such as Ennio Morricone, Luis Bacalov, Armando Trovaioli, and Ritz Ortolani.
Sunday 3rd July 2016
The Javier Girotto Quartet plays at 9:40pm at Piazza San Pietro. Javier, born in Argentina, is an Italian citizen who studied at the Berklee College of Music in Boston, USA. Mixing his Argentinian roots with jazz came naturally to Javier who went on creating music that made his name famous among jazz artists. His style gained him the requests of bigger names in the Italian jazz industry such as Roberto Gatto, Paolo Fresu, Peppe Servillo, Antonello Salis and others.
On this occasion you can take the free boat ride from La Spezia (Passeggiata Morin) to Portovenere at 7:30pm and return at 12:30am.
Most noteworthy: all concerts in Portovenere have a free entrance!
Other highlights of the International La Spezia Jazz Festival
Apart from the musical appointments in Portovenere, you cannot miss the performance by Adam Ben Ezra. He is a Israeli self-taught multi-instrumentalist, composer and educator, known for his Double Bass performances. He will perform at Piazza Mentana in La Spezia, at 9:40pm on 16 July 2016. Free entrance.
In addition, another powerhouse musician and one of the most admired saxophonists of his generation is James Carter. From Detroit, Michigan, he will play with the Hammond Trio on 13 July at 9:40pm in La Spezia's Spazio BOSS/Centro Allende. Entry ticket 10 euro.
Finally, here is the complete calendar of concerts and performances at the International La Spezia Jazz Festival.